Centro Sportivo Lambrone Via Della Libertà, 15, 22036 Erba CO, Italy, Lombardy
Description
Lambrone Sports Center is a complex located in Erba - an Italian town located in Lombardy. It consists primarily of three football fields with artificial turf and artificial lighting. Mainly the pitch is equipped with a synthetic six-track athletics track, long and high jump and a small, covered grandstand for about 500 people. In addition, the sports infrastructure of the facility includes: an artificial turf pitch, an indoor sports pool, wellness and spa area, an outdoor recreational pool with a slide, beach volleyball courts and a gym.
The complex is located on the outskirts of the city in a quiet area. There is a friendly atmosphere here allowing 100% focus on training, and the high peaks of the surrounding mountains and nearby lakes are, next to a very good sports infrastructure, a great visual complement to the complex.
Amenities
Bus parking
Car parking
Recreational pool
SPA
Gym
Sauna
Outdoor pool
Reserve today
Packages available in Centro Sportivo Lambrone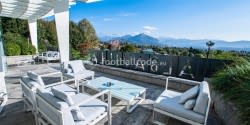 Winter 2020 in Italy!
As part of the package we offer:
7-day stay in comfortable conditions of the Best Western Albavilla hotel in air-conditioned rooms with private bathroom, Wi-Fi, TV, minibar and hair dryer.
The hotel also offers a gym and sauna to its clients (by prior arrangement of the schedule).
The price includes 3 hours of training sessions on football pitches with an artificial surface of the Lambrone Sport Center together with a bus transfer on the hotel-field-hotel line.
In addition, as part of the package teams receive:
- discount to the R-GOL sports shop - 10%,
- sport tests (RAST) - for each participant,
- photo album from the grouping together with drone shots - for each participant,
- recording of the training unit / aerial control match (1.5 hours),
- photo video coverage including a short film from the grouping,
- subscription to the magazine Assistant Trainer - for the trainer,
The price is the cost of one person's stay.
Other dates also available!
In addition, we provide assistance with the organization of bus and air transport on the line club headquarters - hotel.

Do you want to have newest information about packages?