Kompleks Orlik Augustów Augustów 16-300, Tytoniowa 1, Podlaskie Voivodeship
Football pitch with artificial grass | dim 56m x 26m | goal 5m x 2m | artificial lighting
Description
The Orlik Complex in Augustów is located at Tytoniowa street. It consists of a football pitch with artificial turf and a multi-purpose pitch. Next to it are a full-size football pitch with natural grass, a full-size football pitch with natural grass, and a hotel facility.
Located within a short walk of the Lakes Niecko and the White Augustów along with the accompanying hotel and training base creates great conditions for the preparation of football teams.
Augustów - located between seven lakes, surrounded on three sides by the Augustów Forest - is a city with a great microclimate and numerous attractions and monuments.
Location
Distance to Locality center 2.8 km
Distance to Railway Station 650 m
Distance to Bialystok (PL) 94.1 km
Distance to Bus station 3 km
Distance to Shop 100 m
Amenities
Reserve today
Packages available in Kompleks Orlik Augustów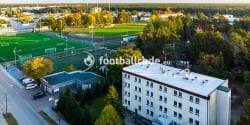 February 2020 in Augustów
7-day stay at the Krechowiak Hostel in Augustów! The facility offers teams very good conditions for organizing sports groupings!
The package includes accommodation in rooms with private bathrooms, Wi-Fi, TV, 2 x 1.5 hours of training on the pitch with artificial surface (schedule determined individually), annual subscription to the magazine Assistant Coach, discount to the sports shop R-GOL 10%!
Additional paid options: possibility of conducting sport tests (RAST), creating a photo album from the grouping together with shots from the drone, recording a training unit / aerial control match.
The price is the cost of one person's stay.
Other dates also available!
Do you want to have newest information about packages?