Stadion Piłkarski Augustów Augustów 16-300, Tytoniowa 1, Podlaskie Voivodeship
Football pitch with natural grass | dim 105m x 68m | goal 7,32m x 2,12m
Description
The Augustów Football Stadium is administered by the Sports and Recreation Center. The facility includes a full-size football pitch with natural grass with stands and a lighted, full-sized football pitch with artificial surface. In the neighborhood there is the Orlik Complex (a football pitch with an artificial surface measuring 56m x 26m) and a hotel facility. Within walking distance access to the crystal clear Lakes: Necko and Białe Augustowskie.
Water sports are very popular in Augustów. For athletes staying at football camps in a village surrounded on three sides by the Augustów Primeval Forest, we recommend recreation in the form of canoes, water skis or cruises by ship.
Location
Distance to Locality center 2.8 km
Distance to Warsaw (PL) 262 km
Distance to Railway Station 650 m
Distance to Bialystok (PL) 94.1 km
Distance to Bus station 3 km
Amenities
Reserve today
Packages available in Stadion Piłkarski Augustów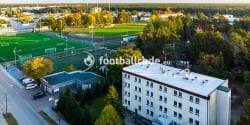 February 2020 in Augustów
7-day stay at the Krechowiak Hostel in Augustów! The facility offers teams very good conditions for organizing sports groupings!
The package includes accommodation in rooms with private bathrooms, Wi-Fi, TV, 2 x 1.5 hours of training on the pitch with artificial surface (schedule determined individually), annual subscription to the magazine Assistant Coach, discount to the sports shop R-GOL 10%!
Additional paid options: possibility of conducting sport tests (RAST), creating a photo album from the grouping together with shots from the drone, recording a training unit / aerial control match.
The price is the cost of one person's stay.
Other dates also available!
Do you want to have newest information about packages?