Hotel OLIMPIC Puławy 24-100, ul. Hauke-Bossaka 1, Lublin Voivodeship
55 places
Polish menu, outside catering

Football pitch with natural grass | dim 105m x 68m | goal 7,32m x 2,12m
Description
The OLIMPIC Hotel is part of a sports and recreation complex managed by the Municipal Sports and Recreation Center in Puławy, which includes: a hotel, a full-size football pitch with a natural grass, a full-size football pitch with an artificial grass, a gym, a summer water park and a cloakroom complex. Meals provided by an external party.
In a short distance there is a full-size pitch with a natural grass, a full-size pitch with an artificial grass, a full-size sports hall and a water park.
The complex is located in a quiet part of town, adjacent to wooded areas.
Puławy provides many non-sport attractions. In addition to recreational areas on the Vistula they invite, among others for walks around the Czartoryski Park. With the transport in a few moments we can reach Kazimierz Dolny and the Nałęczów health resort.
Location
Distance to Warsaw (PL) 152 km
Distance to Lublin (PL) 52.7 km
Distance to Locality center 2 km
Distance to Shop 200 m
Distance to Bus station 1.5 km
Amenities
TV
Bus parking
Car parking
Single bed
Double room
Triple room
Full board
Half Board
Bathroom in the room
Gym
Adapted fot the disabled
Reserve today
Packages available in Hotel OLIMPIC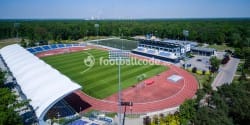 August 2020 at the OLIMPIC Hotel in Puławy!
7 days camp including:
accommodation in double-triple rooms with TV, WiFi, bathrooms and single bedsFB - 3 meals a day (buffet breakfast, lunch served, dinner buffet)2 training session 1.5 hours each day on a football pitch with artificial surface 105m x 68m (equipment: 4 x mobile gates 5m x 2m, lighting),gym each day, 2 entries to the pool per camp, 1.5l mineral water for each participant per day.
1 trainer for 20 participants for free.
The price is the cost of one person's stay.

Do you want to have newest information about packages?