Kompleks Zawisza Bydgoszcz Bydgoszcz 85-915, ul. Gdańska 163, Kuyavia-Pomeranian Voivodeship
175 places
Polish menu

Football pitch with natural grass | dim 105m x 68m | goal 7,32m x 2,12m
Football pitch with artificial grass | dim 105m x 68m | goal 7,32m x 2,12m
Description
The CWZS Zawisza Sports Complex in Bydgoszcz is a place ideal for athletes of many disciplines, where you can prepare well for the start period. Footballers, in addition to accommodation in rooms of various standards, will find great cuisine and a professionally prepared training base. Full-size football pitches with natural grass, full-size football pitch with artificial turf, sports hall, gyms, athletic functions, wellness. Everything located in the shadow of the Zawisza Stadium them. Zdzisław Krzyszkowiak.
Bydgoszcz is the largest city in the Kuyavian-Pomeranian Voivodeship, located on the Brda River, also bordering the largest river in Poland - the Vistula.
Bydgoszcz guarantees many non-football attractions - cultural, entertainment, recreational, and for lovers of sightseeing to visit monuments, museums, historical places.
Location
Distance to Locality center 4 km
Distance to Gdansk Airport (GDN) 173 km
Distance to Warsaw (PL) 268 km
Distance to Railway Station 3.4 km
Distance to Poznan (PL) 145 km
Distance to Gdansk (PL) 167 km
Amenities
TV
WiFi
Bus parking
Car parking
Laundry
Single bed
Double bed
Single room
Triple room
Double room
Four-bed room
Full board
Full board +
Bathroom in the room
Gym
Baggage room
Conference room
Grill
Room service
Adapted fot the disabled
Reserve today
Packages available in Kompleks Zawisza Bydgoszcz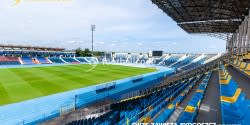 August 2020 ta the Zawisza Complex in Bydgoszcz
A 7-day stay in the Zawisza Complex in Bydgoszcz - a facility that offers sports teams excellent conditions for organizing sports groupings!
The package includes accommodation in rooms with a private bathroom, Wi-Fi, TV, 2 x 1.5 hours of training on a full-size pitch with a natural surface or a sports hall (schedule determined individually), gym.
1.5 l drinking water in bottles for each day participant.
Subscription to the magazine Asystent Trenera for free!
Discount to the R-GOL 10% sports shop!
Additional paid options: possibility of conducting sport tests (RAST), creating a photo album from the grouping together with shots from the drone, recording of the training unit / aerial control match.
The price is the cost of one person's stay.
Do you want to have newest information about packages?